ZenSati cables are the most neutral, super-fast and musical cables currently available. They are remarkable for their speed and crystal clear signal transmission.  ZenSati cables introduce no lag, loss, or distortion as the delicate audio signal is conveyed from one component to the next. ZenSati cables were developed with extensive reference and use of high performance electronics, (Lamm, Krell, Audio research, Technical Brain, Ypsilon, etc.) and speaker systems (the full line of Wilson Audio , Sonus Faber, Surrountec, Cessaro etc.). "We are very serious with our claims about our cables".
The following new product lines are game changers:
Mark Johansen's SILENZIO Digital and USB cables now available. Unquestionably the World's Best.
CALLIA USB DAC and pre-amplifier: now available at ZenSati Australia. It is Sensational at $2695.
Wadax has introduced the Atlantis DAC, Server and Transport.
Robert Koda MC one Absolute Reference Phonostage is now available.
The Robert Koda K-15 EX flagship preamp is now available. It is without peer.
Trinity Electronic Design's revolutionary DAC, PC Drive/Transport, Phono Preamp and Power Amp are in Australia and on Demo.
Wadax The Pre 1 Trio Ultimate and Mizik have arrived.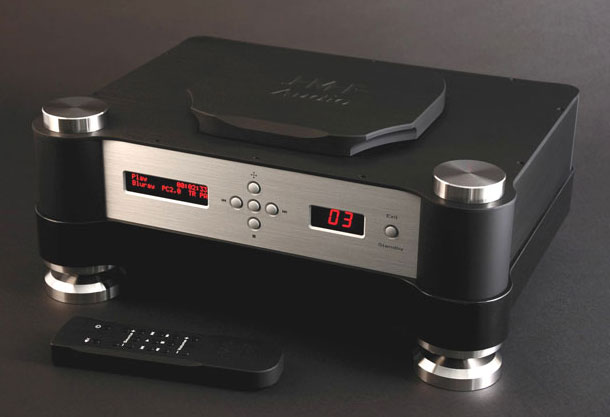 The JMF Audio Blu-Ray Pure Audio disc is the media we had been waiting for. The DMT3.7 is the universal transport you have been dreaming of. It is a masterpiece capable of handling:
Audio Discs: CD, SACD, Blu-ray Pure Audio
Video Discs: DVD, Blu-ray
Files: WAV, FLAC, AAC, DSD…
Decoding: Dolby True HD, DTS Master Audio…
Network: DLNA (no need for a computer, no need for software to install)
Streaming: TIDAL support native
Jonathan Valin. THE ABSOLUTE SOUND. After all this time TB is still unsurpassed.
"Naoto Kurosawa's Technical Brain electronics remain my benchmark for the reproduction of low-level musical detail (and for transient speed, which is intimately tied to the realistic reproduction of the location, texture, and articulation of individual instruments)."
A new company from Spain called Mizik launched what can only be described as a radical rethinking of  audio system architecture, features, and industrial design. The three-component modular approach allows you to build a system tailored to your needs, and to expand as your requirements change. The three components can loosely be described as a DAC/preamplifier, phonostage and A/D converter, and a streamer.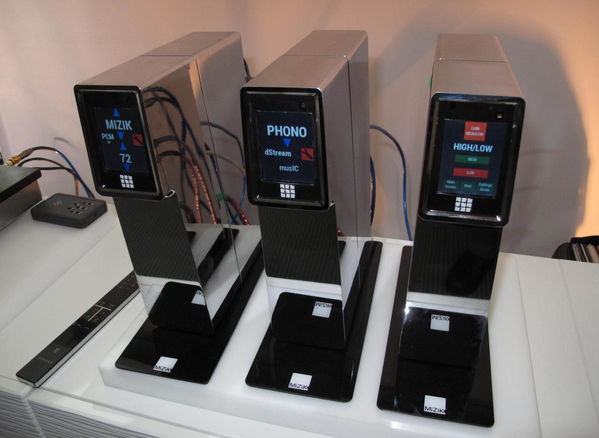 The Mizik system looks like no other audio system. Set up as in the photo or sideways one above the other. Mizik was introduced at Munich High End 2014.
The dPlay-DAPre is a DAC with a built-in linestage. The dVin is a phonostage and A/D converter with some interesting features including selectable EQ curves. The third component is the dStream streamer/server that offers the option of a network port for storage as well as proprietary processes to improve the sound quality. The three components are priced at approx. AU $5000 each and are available now. The styling is a radical departure from the norm. Incidentally, Mizik was founded by the same people who created the Wadax phonostage that offeres the ability to provide correction, in DSP, of cartridge and turntable distortions.